SANGARSH - Annual Sports and Athletics Meet 2016-17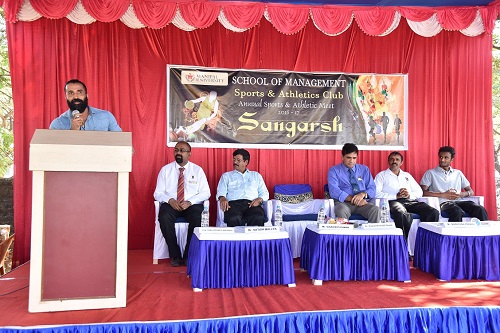 SANGARSH, The annual sports and athletics meet 2016-17 was held on 24th November,2016 at the MIT stadium, Manipal. To pass the spirit in athletes, the day started with1500meters running event for men and women and there was March past, Flag bearers represented each class. Torch Relay was accomplished by the Sports Starts of School of Management who represented in various national and university level sports. Then it followed by the introduction of the Chief Guest Mr. Vikas M. Puthran, an International Athlete and model. The Chief Guest in his address appreciated the students for their interest in sports activities. He emphasized the importance of sports in constructing the positive attitude. He also said that "sports should not be confined to sports day; rather it should be daily routine for the healthy body and healthy soul "Inaugural function ended after the vote of thanks.
Thereafter, events of the day started and all the students actively participated in various events with full sportsman spirit. The event was a great success as the participants came in huge numbers and with greater enthusiasm. In the afternoon, few events for the staff and fun games were conducted. After that the prizes were distributed. The crowd lightened up the event. Huge crowd gathered to support the contestants. They weren't disappointed as they got to experience some wonderful display of talent.