Healthcare Management Conclave "SEHAT-2019"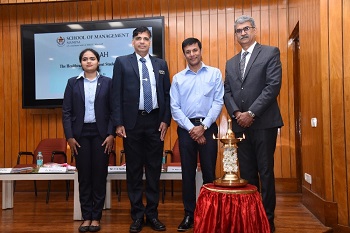 The Healthcare Management student forum PRANAAH has organized a half-day conclave on March 5, 2019.
Dr. Mudit Saxena – Partner, Managing Director and CEO of Ovum Hospitals, Bangalore was the chief guest of the inaugural function. Mr. C.G. Muthana – Chief Operating Officer of Kasturba Hospital, Manipal has presided over the inaugural ceremony. Dr. Raveendranath Nayak, Director of Manipal Institute of Management has delivered the welcome address.
Following the inaugural session, the keynote speaker of the conclave Dr. Mudit Saxena deliberated on the 'Emerging Trends in Healthcare Delivery and Management'. He addresses mainly three areas with reference to emerging trends in healthcare such as technology penetration in healthcare, changing demographics of the country and more aware and better educated consumers.
Diving into the emerging trends of healthcare Dr Mudit Saxena briefed about the Indian demographics comparing it to other nations. He explained the governments initiative of public private partnerships (PPP) and how it has contributed in many ways to provide better and efficient care to the people in the country. With the emergence of remote monitoring, the data is now accessible on mobile phones and tablets. Robotics and augmented reality have revolutionized the nature of Healthcare delivery system. Augmented and virtual reality have remodeled patient experience to make it a more pleasant one; especially for critical care patients. Telehealth is yet another factor that significantly contributes to the Health care sector. E-consultations have helped to get specialized care to the most remote locations. Technology has surely been the traction to achieving a healthier 'India'.The price of healthcare in India is not something we can neglect while talking about its emerging trends. With surging price of care, India has emerged with outcome based care which can significantly bring down cost. In outcome-based healthcare, health systems focus on a process that requires all clinicians to provide accurate diagnoses and treatment algorithms to improve patient outcomes. An outcome based payment system is also in place to bring down costs.
While these crusade the trends of India's emerging healthcare segment, India is just beginning and has a long way to go.