Finance Conclave Organized by Vikalpa, the Finance Forum of School of Management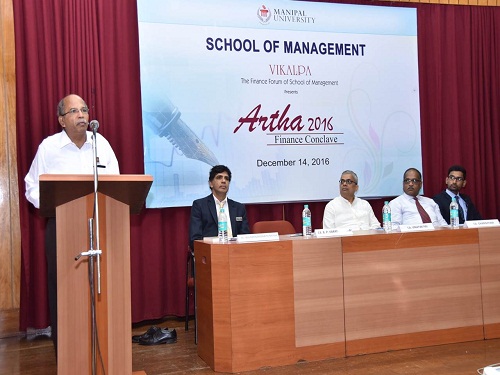 "Goods and services tax is expected to bring about a transition from origin-based tax to destination-based tax regime. Therefore, this will provide impetus to those states where the consumption is more. This will alleviate the current deficiency in the indirect tax regime that favors only those states that are good at manufacturing. Further, the system of allowing input tax credits will ensure that more number of businessmen will become tax-compliant. Business transactions will get digitized. Thus, the GST is expected to lead to increased revenue as well as increased rate of GDP", said CA Mr. Vinayak Pai, a practicing chartered accountant of Bangalore. He was speaking on the occasion of the Finance conclave organized by Vikalpa, the Finance forum of School of Management, Manipal Academy of Higher Education.
This Finance conclave of School of Management brought together industry practitioners and academicians. The objective of this conclave was to make the students of Business administration aware of the contemporary issues of the world of finance.
Mr. Ghanshyam, an independent business consultant based in Mumbai, analysed the issue of black money during which he opined that demonetization may not be able to halt the process of creation of black money though it has provided an initial thrust to the bigger task of halting the process of creation of black money. Measures such as tackling benami properties, a strong public resolution to reject any involvement in corrupt deals, transparency in political funding are all required to counter the threat of black money and the resultant parallel economy, he argued.
Dr. Raveendranath Nayak, the Director of School of Management, delivered welcome address. Mr. Vatsal Kumar, the President of Finance club of School of Management, proposed vote of thanks. Ms. Meghana Pal compered the programme.