Guest talk on "Winning the Startup Challenge" by by Dr. Ashok Prabhu, an innovation coach from New Jersey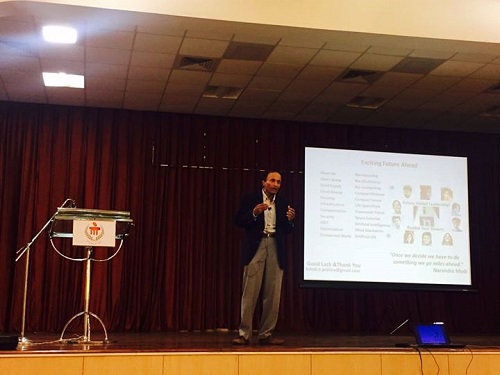 Dr. Ashok Prabhu, an innovation coach from New Jersey delivered a guest talk on "Winning the Startup Challenge" on February 7, 2017.
Dr. Ashok Prabhu graduated from Indian Institute of Technology, Bombay and received his PhD from Purdue University, USA. A former employee of Sarnoff Corporation, formerly RCA Research Laboratory in Princeton, New Jersey, Dr. Prabhu was holding technical and management responsibilities including several Vice President positions from 1979 to 2010. He is a member of the SCORE organization in the US with 30 US and foreign patents.
"Successful new businesses and their growth are important contributors to economic growth and wealth generation. There continues to be increasing interest in starting businesses in India. However success rate among startups including the technology startups continues to be very low, about 5-10% globally" he said. The success rate can be increased significantly by diligently practicing certain process steps while starting new businesses. His presentation focused on important steps which many times do not get the required attention by budding entrepreneurs, especially in the technology based startups. Appropriate ways to avoid common mistakes committed in starting new businesses were highlighted. He shared many success stories during his interaction. "Some ideas are very basic, but the approach of each entrepreneur is different," he added.
Students of International Student Exchange Club, School of Management attended the guest talk and they had an interactive session with Dr. Prabhu.