SPARDHA 2019 Annual Sports and Athletics Meet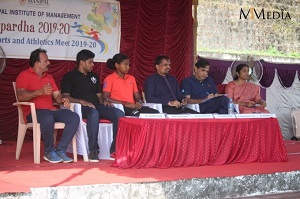 SPARDHA" – The Annual Sports and Athletic Meet of MIM was conducted on 11th October 2019 by the Sports Club of MIM. Ms Karishma Sanil and Dr Vinod Nayak were the chief guest and guest of Honor. Dr Raveendranath Nayak, Director of MIM welcomed the gathering. In her address to the student, Ms Karishma Sanil spoke about how consistent hard work will lead to success. Dr Vinod Nayak spoke about the importance of taking parts in sports activities along with Academics. The students of MIM who have represented University and the student's part of sports club were given a memento recognizing their contribution to the college. There were a total of 20 events in which the students took part in and won prizes. The Chief Guest for valedictory function was Dr Shobha M E. The individual championship in Men's Event was awarded to Mr Deviprasad Shetty and the individual championship in women's event was shared between Ms Ananya and Ms Apoorva Alva. The event concluded with the President of Sports Club Mr Sudhish Menon thanking everyone for their participation and support for the success of the event.
 Ms Karishma S. Sanil,  the Chief Guest of the inaugural function, had an interaction with Dr H S Ballal, Honorable Pro-Chancellor, MAHE along with Dr Raveendranath Nayak, Director MIM, Dr. Kavitha, Sports Coordinator, MIM and Dr Upendra Nayak, Deputy Director of Physical Education, MAHE.