Planetarium Visit to Students of Manchikodi Govt. Primary School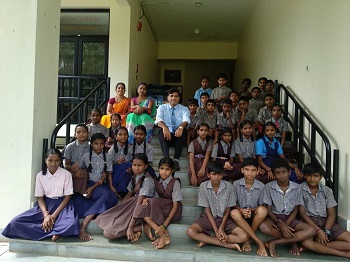 The best thing one can donate to someone in need is happiness. Though happiness cannot be donated but shared among us, this DaanUtsav to experience the Joy of Giving and spread happiness, School of Management's VSS Club Volunteers took up the offer by Manipal College of Natural Science to show a free Planetarium visit to students.
The volunteers approached the Principal of Manchkodi Govt Primary School and offered the students a free show in Manipal Planetarium. The school happily accepted the offer. Transportation facility was organized with the help MAHE Institute's transportation.
The students of standard 5-7 were taken to the Manipal Planetarium on 5th Oct, 2018 at 10:30 am on the occasion of this DaanUtsav. The fee for the show was waived off by MCNS MAHE as part of their contribution for DaanUtsav. The students enjoyed the Planetarium show and returned back to the school with happy faces. The marked another project of Joy of Giving by SOM MAHE.