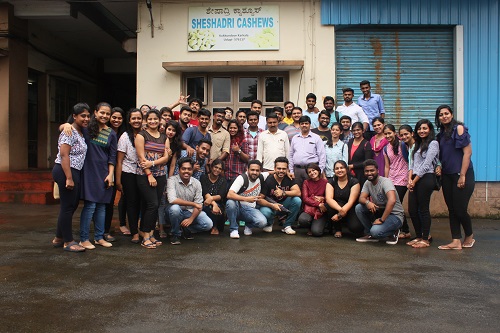 MBA students of School of Management participated in Industrial Visit organised by the Institute on 11th August 2018.
Tour started at 9:30 AM from SOM campus. Students visited a cashew industry at Karkala, SKF boiler fabrication unit and Elixer water purifier manufactures at Moodbidri. They also visited the famous Jain pilgrim thousand pillar basdi .
Students understood the various cashew-processing stages from procurement, processing, grading and packing in Sheshadri Cashew Industry, Karkala. They also interacted with the Production Manager and understood the problems encountered by the Industry.
Students spent time and enjoyed the marvellous stone sculptures at Thousand Pillar Basdi at Moodbidri after which they proceeded to SKF Boilers, who manufacture Rice Mill Boilers. Students were explained the entire boiler manufacturing process and were shown various machineries used. Students had an opportunity to witness thick steel sheet cutting using computerised laser machine.
Next visit was to Elixer water purifiers who manufacture Industrial and domestic water purifiers. The marketing department personnel explained the manufacturing and marketing of the water purifiers using a presentation.
Industrial visit ended at 5 PM with return to SOM campus.