Healthcare Club Inauguration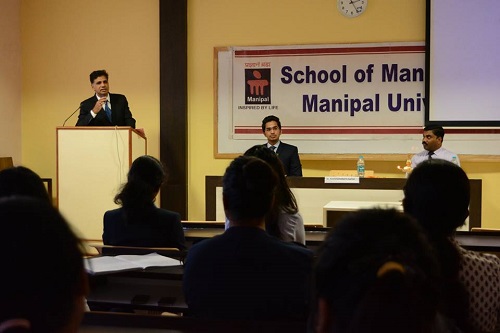 "The best way to find yourself is to lose yourself in the service of others" as told by Mahatma Gandhi, was the motive for formation the healthcare club of SOM. The healthcare club was inaugurated by Mr. Jibu Thomas, Operations Manager, Kasturba Hospital, Manipal. The inaugural was held on 9th of August, 2016 at School of Management, Manipal. Dr. Raveendranath Nayak, Director, School of Management, was preceded over the inaugural function of the club. Dr. Swathi K. S, Faculty advisor of the healthcare club was present.
Mr. Kaustubh Kolwankar, the President of the club welcomed the guests and presented the roadmap of the club. The mission and vision along with the aim and objective of our club were announced. The club name SHAFT (Shaping Healthcare Administration For Tomorrow) was unveiled by the dignitaries on the dais. It was then followed by lighting a lamp which signifies knowledge and is a sign of prosperity.
Mr. Jibu Thomas discussed about the future and scope of healthcare. He gave an insight about the opportunities available in the ever growing Healthcare system.
Dr. Raveendranath Nayak spoke about the importance of the Healthcare Management Program and aspects of the application of the same in the ever changing and growing global healthcare market.
The inauguration function was followed by the club's very first activity, guest lecture by the chief guest, Mr. Jibu Thomas delivered a session on "Operations Management an overview" in teaching hospitals and the role of MBA's in handling everyday pressures in a hospital. The MBA Healthcare Management students of SOM, Healthcare management club members' and faculty had attended the program.