Curtains come down on the three day national convention-APTICON 2016
Department of Pharmacy had organised a two day conference on CPCON-2016 Manipal Academy of Higher Education Campus (MAHE).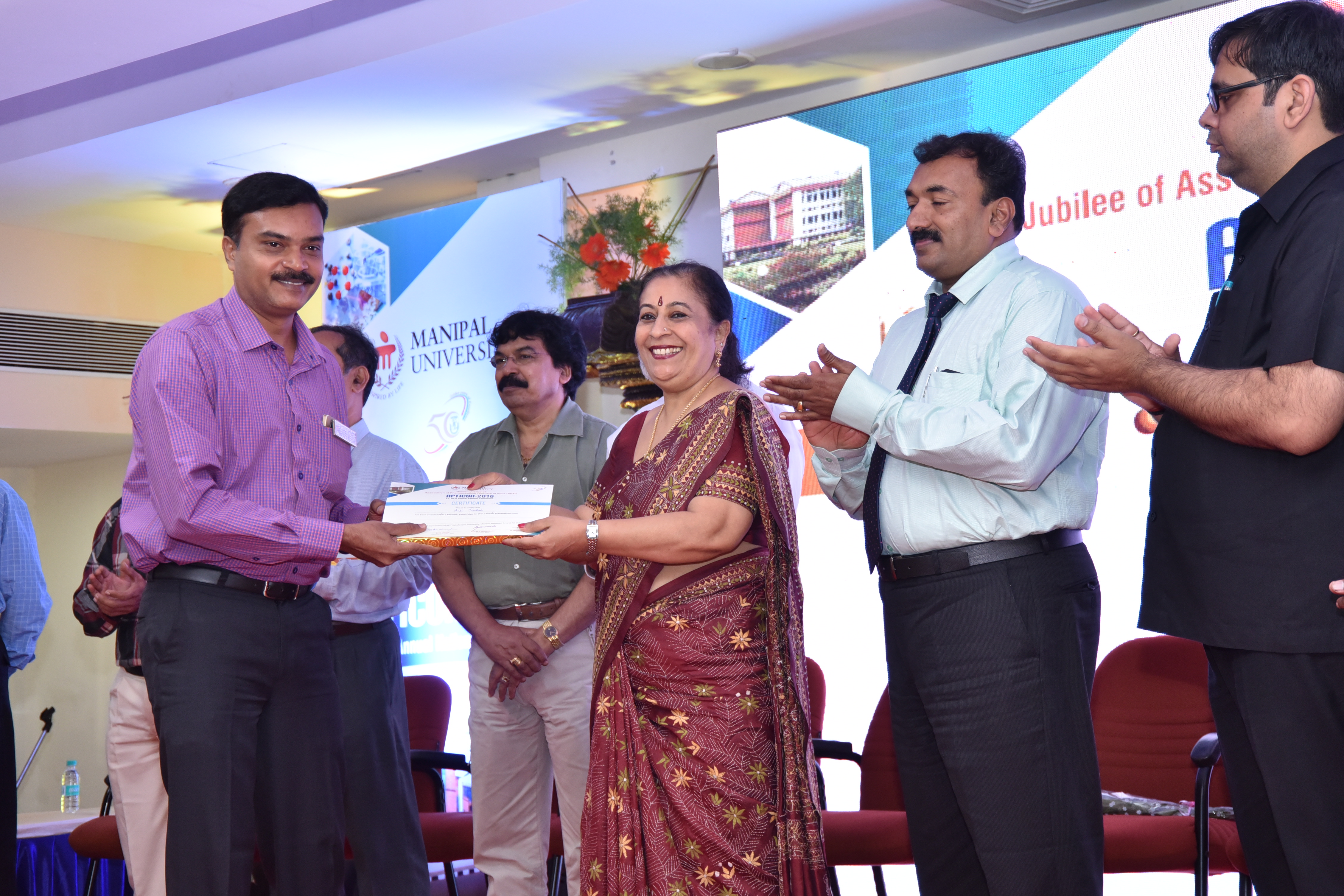 The 21st National Conference of the Association of Pharmaceutical Teachers of India (APTI) was held under the auspices of Manipal College of Pharmaceutical Sciences (MCOPS), a constituent college of Manipal Academy of Higher Education, between 14 and 16 October 2016. Significance of this convention was its conduct during the Golden Jubilee year of the association, which was founded in Banaras by stalwarts of pharmacy profession, Prof M L Shroff and Prof GP Srivastava. MCOPS was host to the convention with the theme: Roadmap to Quality Pharmacy Education and Research.
A one-day pre-convention workshop was held on the 14th. Eminent teachers, Dr K Ram Narayan and Dr Sudhakar Nayak of Manipal Centre for Professional Development (MCPD), were the resource persons for the workshop on "Roadmap for Quality Teaching and Evaluation."  A symposium on "Pharmaceutical Research Facilitation" was held in the afternoon. Dr GK Prabhu, Director, Manipal Institute of Technology inaugurated the symposium. Dr A Ramkishan (Deputy Drugs Controller, CDSCO, New Delhi) also spoke briefly. Mr Alok Poundrik (Accounts Manager, Academic and Government Intellectual Property and Science, Thomson and Reuters) and Ms Sherin Mary Samji (ACS International India) were the speakers for the symposium.
The Convention was inaugurated on the evening of 14th October. Prof Bhushan Patwardhan (eminent scientist, Interdisciplinary School of Health Sciences, Savitribai Phule Pune University) was the Chief Guest. Dr H S Ballal (Pro Chancellor, Manipal Academy of Higher Education), Dr C K Kokate (Vice Chancellor, KLE University, Belagavi), Dr A Ramkishan, the members of the executive council of APTI, Dr N Udupa (Research Director, Manipal Academy of Higher Education and Convener of APTICON 2016) and Dr C Mallikarjuna Rao (Principal, MCOPS) were present on the dais during the inaugural function.  
During the inaugural ceremony awards for young pharmacy teacher, young researcher, principal of the year and other categories were given away.
Scientific sessions were held on Day 2 of the convention (15 October), in the morning and afternoon. Over 350 posters were selected for presentation. The best posters in each category received prizes. A few of the posters were selected by the panel of experts for oral presentation on Day 3 (16 October). In all, there were 21 oral presentations. Ms Sanchari Basu (Research Scholar, MCOPS) secured the first prize, while Dr BM Gurupadayya, JSS College of Pharmacy, JSS University, Mysuru and Ms M Jyothsna (Research Scholar, MCOPS) were given the second prizes.
During the scientific session on the morning of Day 3, Dr Sanyog Jain (NIPER, Mohali) spoke on the use of nanotechnology to improve absorption of poorly soluble drugs. Dr G Subramanian (Novartis Healthcare) spoke of the limitations of PKPD studies conducted in academic institutions. 
About 50 eminent pharmacy teachers were felicitated for their contribution to pharmacy teaching.
The Valedictory function was held on Day 3 after the scientific presentations. Dr Poornima Baliga (Dean KMC, Manipal) was the Chief Guest. The other dignitaries who graced the occasion were Dr. Pravin Digambar Chaudhari (President APTI), Dr. Dhirendra Kaushik, and Mr. Satish A Kavatagimath (both Vice Presidents), Dr. Mahesh Burande (former President APTI), Prof BG Shivananda (former Secretary APTI), Dr. Murugan (Treasurer), Dr Aravind Karadi (Karnataka State Vice President), Dr Sohan Chitlange (Executive Secretary), Dr. Rajasekharan (Associate Secretary), Dr. N Udupa (Convener APTICON2016) and Dr C Mallikarjuna Rao (Organising Secretary, APTICON 2016). Dr Srinivas Mutalik (Convener, Scientific Committee) gave an account of the proceedings.  Dr N Udupa delivered the vote of thanks.