Undergraduate orientation programme 2017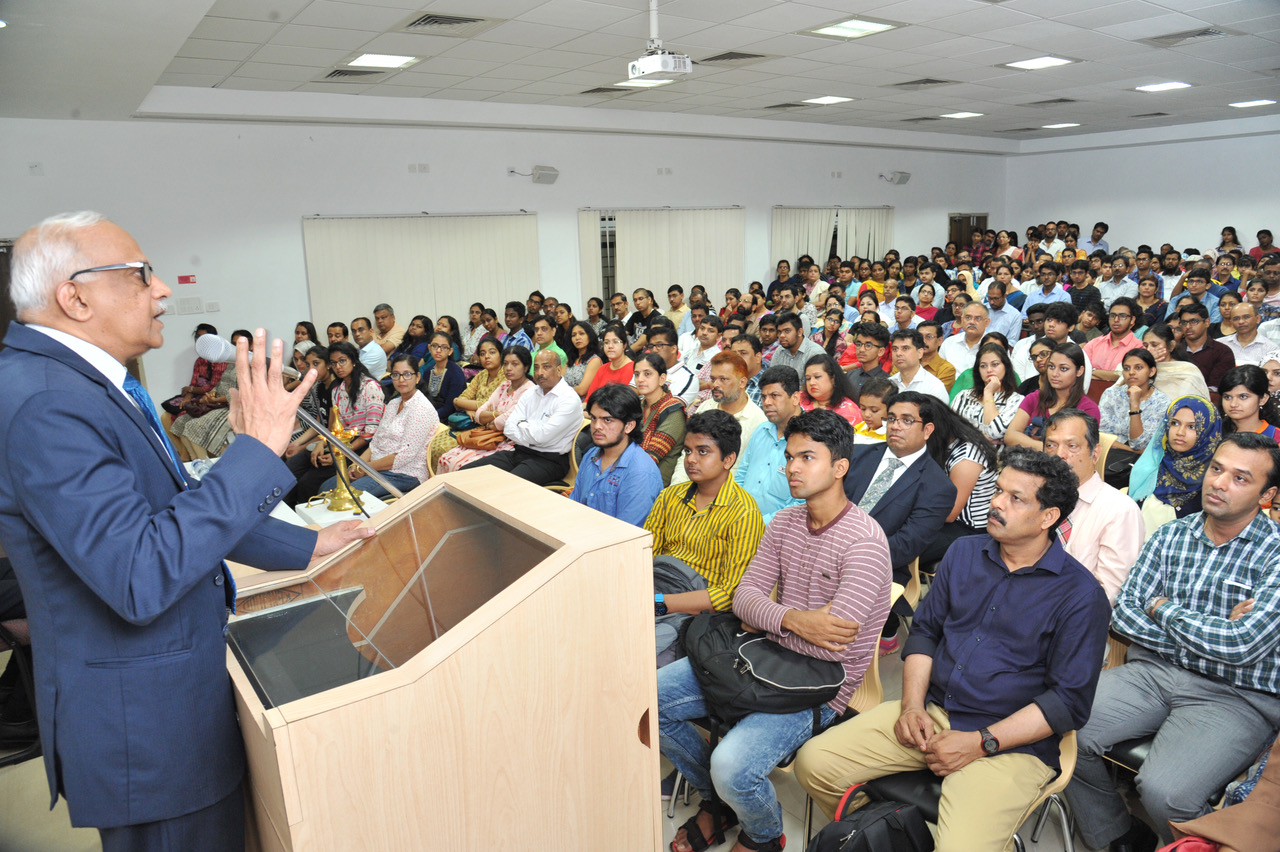 Manipal College of Pharmaceutical Sciences (MCOPS), a premier pharmaceutical institute in the country and recognized in  QS world university rankings 2017 (251-300 range) is all set for a new academic year. The orientation programme for the new undergraduate entrants to pharmacy profession and parents was held at MCOPS during 1, 2 August 2017.
"Using time effectively, choosing friends wisely and by listening to parents and teachers all the time, students can go to a great distance", said the chief guest, Dr H Vinod Bhat, Vice Chancellor, Manipal Academy of Higher Education, during the inaugural ceremony of the orientation. Dr Bhat motivated the students to explore the educational resources and experience the multidisciplinary and multicultural university campus. While addressing the opportunities for international travel, he opined, "Every student who has a valid passport should travel". Dr Bhat's motivating speech inspired the freshmen to acclimatize to the new environment.
Dr. C Mallikarjuna Rao, Principal welcomed the gathering and presented an overview of the college.  Dr. Ananth Pannala, Principal Lecturer Pharmaceutics, School of Pharmacy and Biomolecular Sciences, University of Brighton, UK; Adjunct Faculty of MCOPS and Dr N Udupa, Director Research (Health Sciencs), Manipal Academy of Higher Education were present during the inaugural ceremony. Dr. M Sreenivasa Reddy, Vice Principal proposed the vote of thanks. Dr. Angel Alex, faculty, department of pharmaceutical biotechnology coordinated the inaugural program.
The two-day orientation program successfully provided information regarding the curriculum, campus life, and opportunities and facilities at Manipal Academy of Higher Education. Along with the design of syllabus, students were educated about the rules and regulations, extracurricular activities and opportunities to explore their talent. The program included  awareness talks by various offices of Manipal Academy of Higher Education,  notably by Dr. Suma Nair, Director Student Affairs, on co-curricular activities and student counselling. Dr (Col) M Dayananda, Chief Operating Officer and Medical Superintendent deliberated upon health care facilities. Mr Shridhar H spoke about sports facilities. Library services by Dr Shivananda Bhat, Chief Librarian and Finance related queries by Nirupa J Srinivas