"Nursing care is incomplete without the humane touch. And, notwithstanding the importance of advancing technology, this one aspect can never be separated from the nursing profession," said Major General Elizabeth John, Principal Matron, Army Hospital, New Delhi while addressing students, faculty, parents and others on Saturday at the 27th Annual day of Manipal College of Nursing Manipal at the Dr TMA Pai Hall here.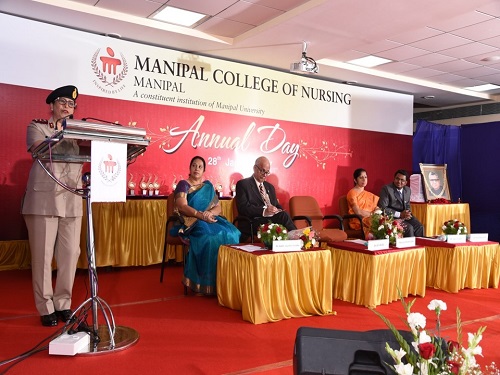 She said that the art of healing was a combination of biopsychosocial component and nursing encompasses both art and humanistic approach. "Do not sum up the patients with percentages and averages and provide a caring approach,' was her advice to all in the fraternity. To the students she said, pursue your passion and hobbies without procrastination. "Life is not easy. For every gain, there is pain. Do not give up, persevere and follow your dreams and success follows".
Her advice for the teachers was to restore and rekindle the art of nursing, teach students how to talk to patients, how to place caring hands on them and how to listen to the patients keenly. She congratulated the students and their parents for choosing the nursing profession. She also congratulated the award winning students for their success.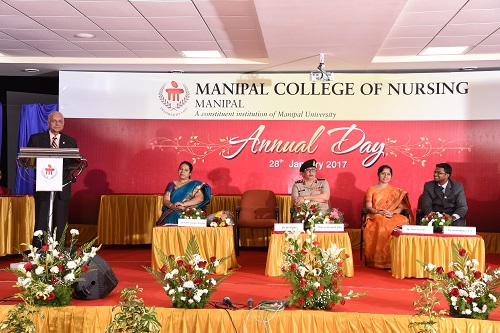 Dr. H S Ballal the Pro Chancellor of Manipal Academy of Higher Education presided over the programme and appreciated the contributions of nurses to the health care industry. He congratulated the college of nursing for being one of the leading colleges of nursing in the country.
Dr Anice George, Dean, MCON Manipal presented the annual report which highlighted the achievements, the awards and projects over the past year.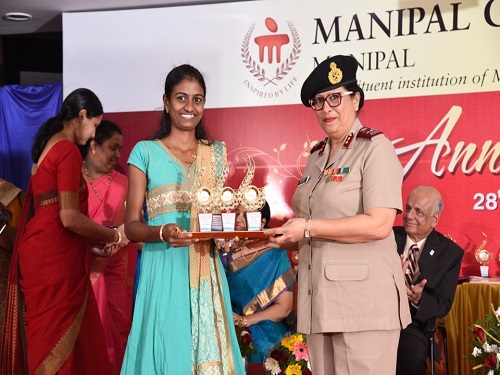 Meritorious students of BSc Nursing, PBBSc Nursing, MSc Nursing and MPhil Nursing were awarded. Ms Tenzin Tsetan was the best outgoing BSc. Nursing student of the year 2015-2016, Ms. Mamatha received the award for second rank of BSc. Nursing outgoing batch 2016 and Best Clinical Expertise award in BSc nursing outgoing batch. Mrs. Sheela Shetty and Mrs. Manjula, Assistant professors received the good teacher award. Mrs. Shalini G Nayak, Lecturer received the most accomplished faculty award.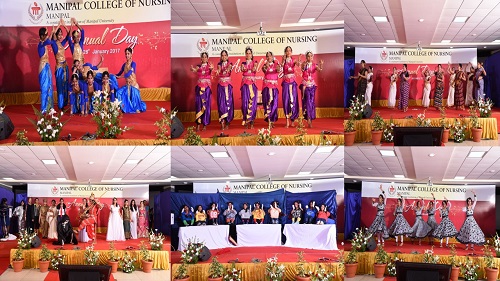 Mr Michael Johnson, SNA President presented the report of the activities of Student Nurses Association 2016-17. Dr. Judith A Noronha, Associate Dean welcomed the gathering and Dr. Linu Sara George, Professor introduced the chief guest. Vote of thanks was delivered by Dr. Shashidhara YN, Associate Professor and Convener of the programme, MCON Manipal. The program was compered by Ms. Shalini G Nayak, Lecturer MCON. The formal function was followed by cultural extravaganza by the students and faculty.