REPORT OF 153RD BIRTH ANNIVERSARY OF SWAMI VIVEKANANDA
Fill the brain with high thoughts, highest ideals,place them day and night before you,and out of that will come Great work - Swami Vivekananda. To commemorate the birthday of Swami Vivekananda, maker of Modern India, National Youth day is celebrated with great joy, enthusiasm every year in India on 12th January. The theme for the year 2016 is " Indian Youth for Development, Skill and Harmony".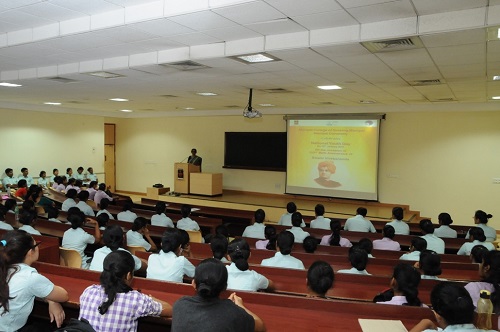 Swami Vivekananda was born as Narendranath Dutta on 12th January 1863. He was a key figure in the introduction of the Indian philosophies of Vedanta and Yoga to the western world and was credited with raising interfaith awareness. He was a chief disciple of 19th century saint Ramakrishna and founder of Ramakrishna Math and Ramakrishna mission. The 153rd Birth Anniversary of Swami Vivekananda is celebrated all over the country giving a message to the youth the way of life and ideals that will make India a better country in future.
Manipal College of Nursing Manipal observed the National Youth Day with the primary aim of sensitizing the students about the philosophies, principles and ideas of Swami Vivekanada. The students were motivated to be good citizens of India, thus contributing to the development of the country. A lecture was delivered by Dr. Jyothi Chakrabarty, Associate Professor, Manipal College of Nursing Manipal, Manipal Academy of Higher Education. The inspiring stories of Swami Vivekananda's life briefed to the students by Dr. Jyothi made the session more interesting and captivating.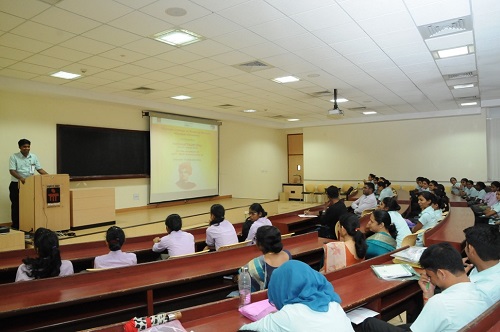 The students were enlightened about the relevance of his principles in the present world. Her lecture inspired the youth to lead a very happy and productive life, wherein we should be the donors of love. This was followed by an extempore competition for students.
The programme was well received by all the faculty and the students attended.