Beach Clean Drive "Chaitanya" – MCON, MAHE
As part of the Daan Utsav 2019, the faculty members and students of Manipal College of Nursing, Manipal along with Volunteer Services Organization (VSO), MCON, MAHE, Manipal organized 'Chaitanya' - a 'Beach clean drive' on 4th October 2019 at Kedike Beach, Thottam.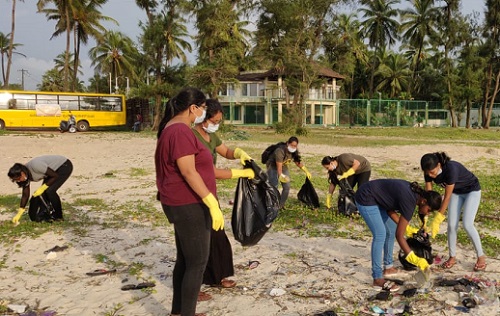 The coastal shoreline of Udupi district is filled with waste and garbage of various kinds. An initiative "Chaitanya", which means 'energy' or 'enthusiasm', was planned to clean the beach for a healthy environment, which would inculcate the young budding generation on preserving a clean and neat environment and thus treasure the clean and healthy nature along with experiencing the joy of cleaning. Around 25 Post Graduate Nursing students and 5 faculty members of MCON participated enthusiastically in this initiative. The program was coordinated by Dr. Sonia R.B D'Souza, Dr. Binil V, coordinators, PG program and Dr. Latha T, VSO coordinator.