Report of Awards & Annual Day
Held on January 27, 2018 at Dr TMA Pai Hall, KMC Manipal.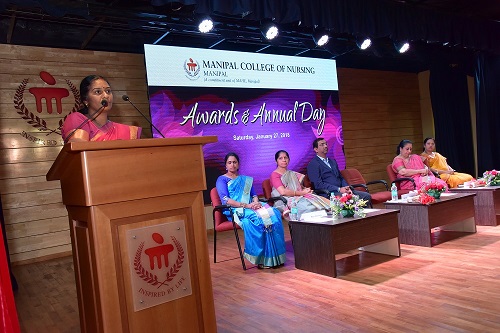 Nurses form the largest cadre of professionals in the health care setup. Nursing profession needs a complete image change to achieve the Sustainable Developmental Goals (SDG) and there is an urgent need for transformation in both government and private sector said Dr. Rathi Balachandran, Assistant Director General of Nursing, Ministry of Health and Family Welfare, Govt. of India during the 24th Awards and Annual day function of Manipal College of Nursing Manipal MAHE.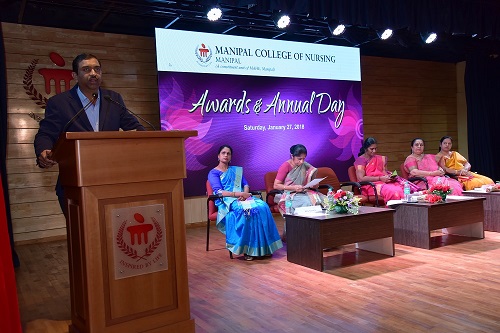 She also mentioned that young professionals developed by MCON need to shoulder to new responsibilities and newer healthcare needs of the clients. The Guest of Honour, Mr. Srikanth Phulari, Registrar, Karnataka State Nursing Council, Bangalore in his address congratulated MCON for being a pioneer in the field of nursing profession. He also appreciated the resources provided to the students in the form of excellent faculty and infrastructure for their learning. He also added a note on online registration of nurses in Karnataka State.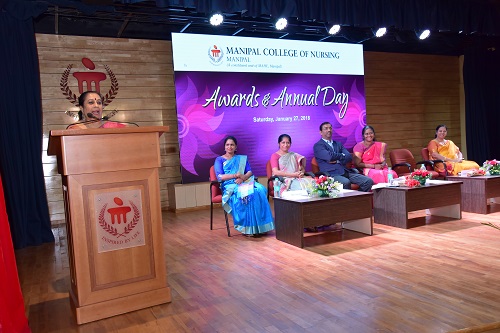 Dr. Poornima Baliga, Pro Vice chancellor, Health Sciences, MAHE, Manipal in her presidential address applauded Dean and faculty members of MCON Manipal as disciplined and well-versed in the curricular and co-curricular activities.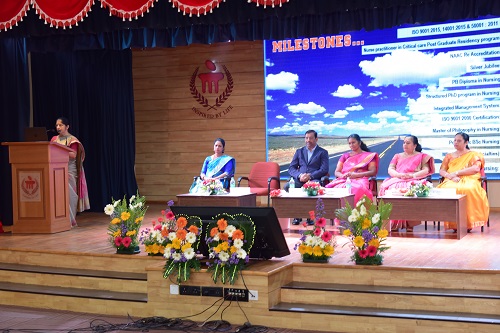 Dr Anice George, Dean, MCON Manipal presented the annual report of the college highlighting the various events, activities and achievements of the college.
Meritorious students of BSc Nursing, PBBSc Nursing, MSc Nursing and MPhil Nursing were awarded. Ms. Sharal Niveditha D'Sa was the Best Outgoing BSc Nursing student of the year 2016-17. Ms Niyola Jenifar Dsilva received the award for Best Clinical Expertise in BSc Nursing outgoing batch 2017.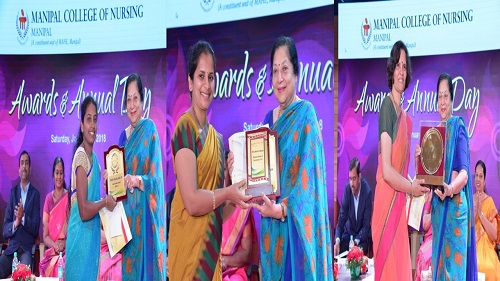 Mrs Ranjini P and Mrs Shalini G Nayak, Asst. Professors received the Good Teacher award. Dr Baby S Nayak, Professor, Dept. of Child Health Nursing received the 'Most Accomplished' faculty award.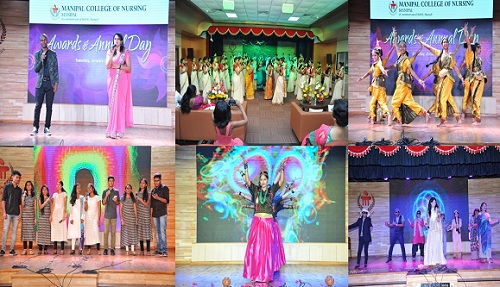 Mr. Tenzin Thupten, SNA presented the report of Student Nurses Association 2016-17. Dr Judith A Noronha, Associate Dean, MCON, Manipal welcomed the gathering. Dr Christopher Sudhaker, Professor and Deputy Director, Quality & Compliance and Dr Mamatha S Pai, Professor introduced the chief guest and guest of honor respectively. Vote of thanks was delivered by Mrs. Ansuya, Asst. Professor and Convener of the Annual day. The programme was compered by Ms Roseminu Varghese, Lecturer MCON. The formal programme was followed by cultural extravaganza by the students and faculty of the college.