REPORT OF WORLD ALZHEIMER'S DAY- 2017
World Alzheimer's Day, September 21st of each year, is a day on which Alzheimer's organizations around the world concentrate their efforts on raising awareness about Alzheimer's and dementia.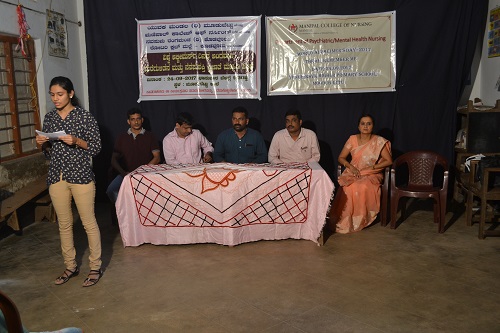 Alzheimer's disease is the most common type of dementia. It is substantially increased among people aged 65 years or more, with a progressive decline in memory, thinking, language and learning capacity. It is estimated that every 3 seconds, someone in the world develops dementia. The number of people living with dementia around the world is expected to almost double every 20 years, reaching 131.5 million people by 2050. In India, more than 4 million people have some form of dementia.
The World Alzheimer's Day-2017 was observed at KSVK higher primary school, Moodubettu, Malpe on 24th September 2017 between 10-12pm. The programme was jointly organized by the faculty of department of Psychiatric Nursing, with III year BSc. nursing students, Rotary club Kodavooru, Malpe, Yuvaka mandala Moodubettu and Navasuma Rangamancha, Kodavooru, Malpe.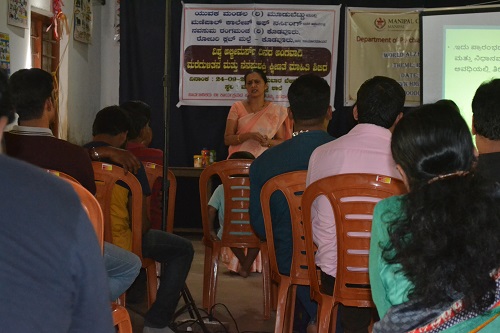 The programme was graced by active participation of people from Moodubettu and Kodavooru, Malpe. The theme for World Alzheimer's Month 2017 is "Remember Me". Mrs. Savitha, Asst. Professor, Dept. of Psychiatric Nursing introduced the day's theme and enlightened the gathering on identification, treatment and prevention of Alzheimer's disease. She has emphasized that awareness about this degenerative and irreversible disorder is very important. In her speech she highlighted on Alzheimer's disease, which is often called a family disease, because the chronic stress of watching a loved one's deterioration of cognitive function affects everyone. She accentuated that family, society and nation have important role in taking care of the loved ones who are living with dementia.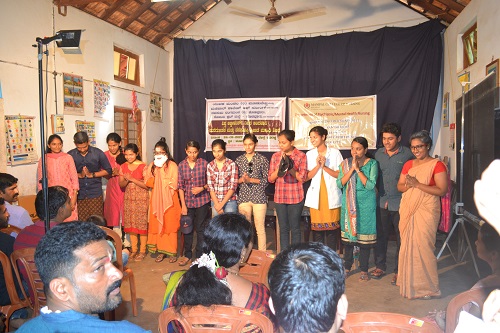 Mr. Balakrishna, President, Navasuma Rangamancha, Kodavooru, while speaking on this occasion stated that it is important that people should be made aware of the early symptoms of the Alzheimer's disease and remedial measures that can be taken in time. He appreciated the effort taken by faculty of Psychiatric Nursing department and students of MCON Manipal. Students enacted a role play on signs and symptoms and early identification of Alzheimer's disease, which was well appreciated by the audience. At the end many of the audience clarified their doubts and concerns with regard to dementia and its prevention and care with the experts. Mr. Taranath, President, Rotary club, Kodavooru, Mr. Sudesh, Secretary, Rotary club and President, Yuvaka Mandala, Moodubettu, Malpe preceded the program. Program culminated at 12.00 pm with vote of thanks by Ms. Shyamala, 3rd Year BSc nursing student. Ms. Rashal Rashmi Martis, 3rd Year BSc Nursing student was the master of ceremony.