Health and Social Welfare committee of Student Nurses Association 2015-2016 organized slum visit on 15th August, 2015 at Baliga slum, Udupi.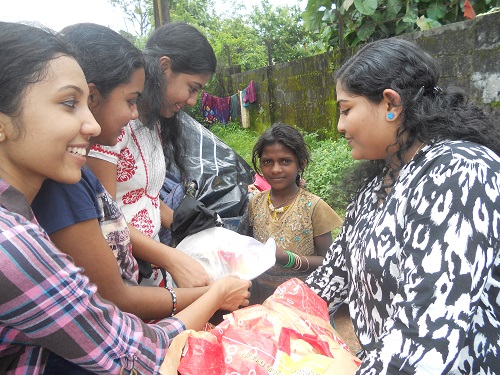 Fifty nine students of MCON under the guidance of three faculty - Mrs. Twinkle Dan Pothiyil, Health and Social Welfare committee Advisor, Mrs. Latha T, Health Education committee Advisor and Mr. Jomon C U, SNA Club Co-advisor visited Baliga slum between 11.00 am to 02.00 pm.
Twenty six families were present and health education on prevention of Dengue and Personal hygiene was given to all the residents. After the health education, Family kit containing of a plate, 1kg of rice and sugar, soaps, biscuits, toothpaste, notebook with pen and as well as clothes were provided.
The residents were attentive during the health education and were happy to receive the family kit. They expressed their heartfelt gratitude to the MCON team.