Report on International Clinical Placement University of Stavanger, Norway
International Clinical Placement for 10 weeks from September 16 to November 28, 2019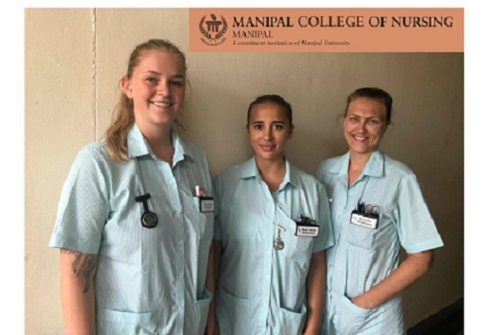 Three students from University of Stavanger had their International Clinical Placement in Manipal College of Nursing Manipal. As part of this program, students had clinical experience in various medical surgical wards, Maternity and Child health wards, Psychiatry ward and rehabilitation unit. They had rural community home visit and visits to primary health center, urban slum and Anganawadi center.
They also had observational visits to experience theatre, Health Sciences Library, Mareena, Department of Yoga, Department of Ayurveda and Manipal Museum of Anatomy and Pathology.
The International Clinical Placement concluded with the feedback report presentation on 28/11/2019. Student expressed that they had good learning experience in Manipal. The overall program was coordinated by Dr Shashidhara Y N and Mrs Reshma R Kotian from the department of Community Health Nursing. Mr Anil Raj A, Department of Medical Surgical Nursing, Mrs Yashoda Sathish, Department of Child Health Nursing, Mrs Flavia Noronha from the Department of Mental Health Nursing and Mrs Pratibha from the Department of OBG Nursing were the other faculty members who coordinated the postings.