WORLD ALZHEIMERS DAY -2015
The World Alzheimer's Day-2015 was observed at Samyukta Government High school, Rajeeva nagara, Manipal on 19th September 2015 between 02-04pm.
Alzheimer's is a degenerative disease of the nervous system where the persons starts to lose their memory and in later cases even show behavioral disorders and forgets their own identity. World Alzheimer's Day, September 21st of each year, is a day on which Alzheimer's organizations around the world concentrate their efforts on raising awareness about Alzheimer's and dementia. The total number of people with dementia worldwide in 2010 is estimated at 35.6 million and is projected to nearly double every 20 years, to 65.7 million in 2030 and 115.4 million in 2050. In India, about 3.7 million people are suffering from Alzheimer's dementia.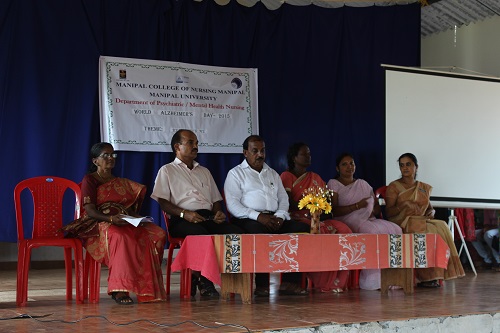 The programme was jointly organized by the faculty of department of Psychiatric Nursing, with III year BSc. nursing students, Sphurthy Mahila Mandal, Rajeeva Nagara and Rajeeva nagara Residential Owner's Welfare Association. The programme was graced by active participation of people from Rajeeva nagara. The theme for World Alzheimer's Month 2015 is "Remember Me". Mrs. Shalini, Asst. Professor; Dept. of Psychiatric Nursing introduced the day's theme. In her speech she highlighted the importance of recognizing the signs of dementia. She also emphasized that activities should also give importance in remembering the loved ones who are living with dementia, or those who may have passed away.
Mr. Gangadhar Shetty, President, 80th Badagabettu Grama Panchayath, highlighted the significance of observation of world Alzheimer's day. Students enacted a role play on signs and symptoms and early identification of Alzheimer's disease, which was well appreciated by the audience. Mrs. Savitha, Asst. Professor, Dept. of Psychiatric Nursing enlightened the gathering on identification and treatment of Alzheimer's disease. She emphasized that awareness about this degenerative and irreversible disorder is very important. Supportive care for the patients affected with Alzheimer's and family members who are involved in care need to be the focus of attention. In her speech she also highlighted on Alzheimer's disease, which is often called a family disease, because the chronic stress of watching a loved one's deterioration of cognitive function affects everyone. A psychological approach in dealing these target population is an emerging crisis for the health team, as the number of senile population is escalating!
Mr. Ravindra Shetty, President of Rajeeva Nagara Residential Owner's Welfare Association expressed his gratitude and appreciated the efforts taken by the faculty and students. Program culminated at 4.00pm with vote of thanks by Ms. Sahana Prabhu, 3rd Year BSc. nursing student.