Seminar on Advances in Child Care
A seminar on Advances in Child Care was conducted by Manipal College of Nursing (MCON) Manipal in association with Ochsner Centre for children, Tulane University, USA.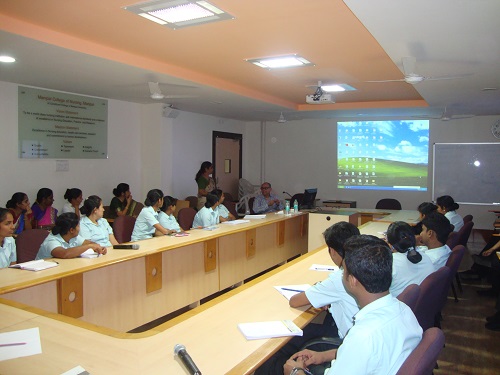 Dr. Anice George, Dean MCON welcomed the gathering. Dr. Rajasekharan P. Warrier, Professor Emeritus and Clinical Professor of Pediatrics at LSUHSC/Children's Hospital, New Orleans and Clinical Professor, Dept. of Pediatrics, Tulane University delivered a talk on pediatric oncologic emergencies. He emphasized on the problems experienced by these children and its management such as infection, tumor lysis syndrome and electrolyte imbalance.
Dr R.Baliga MD – Clinical Professor of Pediatrics, Tulane University and Section Head, Ochsner for Children, Pediatric Nephrology presented a topic on Acute Kidney Injury in children, its causes, manifestations and various treatment modalities. Thirty students and faculty of MCON attended the seminar. The seminar was ended with vote of thanks by Dr. Mamatha S Pai, HOD Department of child health nursing. This seminar was organized by Child Health Nursing department.