Report of Diabetic Screening Camp
The Department of Community Health Nursing, Manipal College of Nursing Manipal (MCON) in association with Dept. of Ophthalmology & World Diabetes Foundation, KH, Manipal, District N D C Cell, Udupi; Department of Community Medicine KH, 38th Athrady Panchayat and Rotary Club Manipal town had conducted Diabetic Screening Camp on 5th April 2015, at Shri Durgamba Bhavani Temple Hall, Athrady.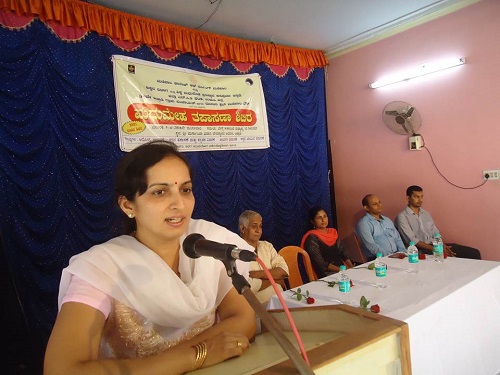 Wide campaigning was done for this programme at Athrady, Hirebettu, Marne, Patla, Kabiyadi
and Pareeka. Panchayat of Athradi & Hirebettu and PHC, Hirebettu was informed regarding the Camp.
Dr Vijayalaxmi, Medical Officer, PHC Hirebettu inaugurated the camp at 9:00 am. In her inaugural speech, she explained in detail on signs and symptoms of diabetes, risk factors, management and its prevention.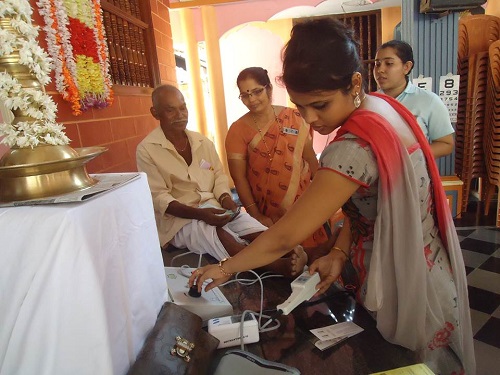 Dr. Shailaja, Asst. Professor, Department of Ophthalmology, KH Manipal, informed to the general public on diabetic retinopathy and importance of early detection. Mr Prabhath Kalkura Project Manager, World Diabetes Foundation, Kasturba Hospital, explained on importance of foot care. Dr Nihal, from District Surveillance Office, briefed about the government services provided for diabetic patients. Mr Annaya Nayak, Secretary Rural Education Society, Patla and Mrs Prameela Athradi Panchayat President, Dr, Sravan Reddy, Dept of Community Medicine Kasturba medical College Manipal were also present during the inauguration. Welcome address was given by Dr.Shashidhara Y N, HOD, Dept of Community Health Nursing, and Vote of Thanks delivered by Mrs.Malathi G Nayak, Asst. Professor, Dept of Community Health Nursing. MCON and Master of the Ceremony for the inaugural function was Ms.Chaithra, IV Year BSc Nursing student.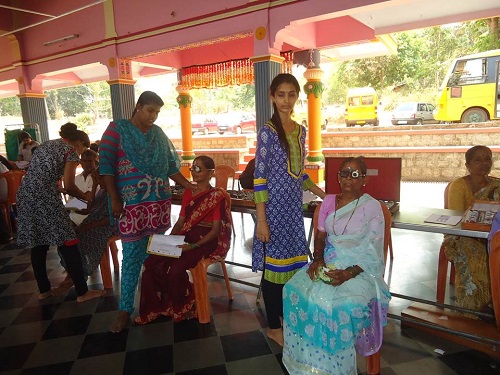 The camp activities included - awareness on Diabetes, General Health checkup, Diabetes screening, Eye checkup, free spectacles distribution based on the needs, referral for cataract surgery and diabetic food assessment. Total of 118 patients (76 females and 42 males) were registered for the camp. Out of 118, 105 patients RBS was checked and found that 27 were known diabetic and 14 of them had high blood sugar level. Patients who were found high blood glucose level were undergone for foot screening and 4 were referred to Physiotherapy Unit of KH Manipal for further consultation. About 51 people took ophthalmology consultation. In that 30 patents had vision problems and spectacles were given free of cost. 3 people were referred to KH Manipal for cataract surgery.
By 1.30pm camp activities were closed and it was widely accepted by the people. All the camp visitors were highly satisfied with all the camp activities. The programme was coordinated by Mr.Vinish V, Lecturer, Dept of Community Health Nursing, Manipal College of Nursing Manipal under the guidance of Dr.Shashidhara Y N, HOD Dept Of Community Health Nursing, Manipal College of Nursing Manipal.