Manipal College of Nursing observes Alzheimer's Week Raising awareness and challenging stigma on Alzheimer's disease
Department of Psychiatric / Mental Health Nursing, Manipal College of Nursing, Manipal has observed the Alzheimer's week from 21st to 26th September 2019 to sensitize the general public and adults regarding the early symptoms, prevention and treatment of Alzheimer's disease.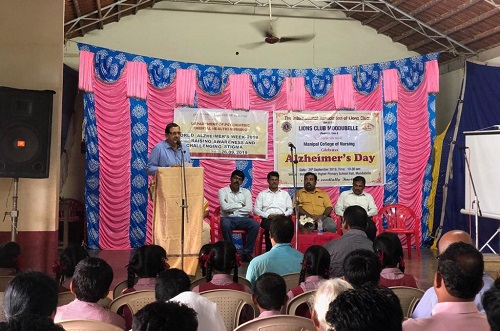 A talk on raising awareness among the general public and support to those dealing with Alzheimer's disease and other dementias was aired at 5.00 pm on 21st September in Manipal, Udupi and nearby villages of Shivalli, Alevooru, Perampally, Badagabettu, Ambalapady, Kalyanapura, Udyavara, and Kukkehally, on Community Radio Manipal 90.4. On 26th Thursday, an awareness program on Dementia, in collaboration with Lions Club, Moodubelle was organized for the public of Moodubelle Panchayath. Mrs Flavia Noronha, the Lecturer, revealed the theme for this year "Raising awareness and challenging stigma" and Mrs Rochelle Jane Dsa, Lecturer conducted the awareness program session. To sensitize the high-risk group, third-year BSc Nursing students enacted a role-play on Alzheimer's disease, which was well appreciated by the group. The programme concluded by an interactive session where the group was given the opportunity to clarify their doubts with regard to caring persons with dementia.
Mr Renjulal Yesodharan, Assistant Professor and coordinator of the programme, Manipal College of Nursing, Ln Anil D'Mello, Vice President and other office bearers of Lions Club, Moodubelle and Sr. Irene Viegas, Principal, St. Lawrence Primary School Moodubelle were present.