Orientation to E-Learning Portals
An Orientation to E-learning portals session was conducted by Mrs. Sivaneswary, faculty of Ngee Ann Polytechnic Singapore on 07/10/2017 at 9.00 am in the conference hall, MCON.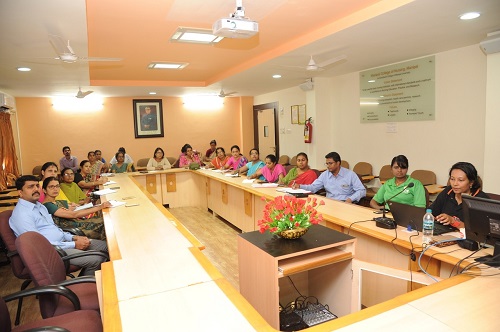 Dr. Shashidhara YN, HOD, Department of Community Health Nursing gave the brief introduction of the programme and welcomed the resource person. Mrs. Sivanesawary has presented with live demonstrations on various online portals, which can be used as an online platform for preparing videos, PowerPoint slides, sharing a common document in the group, conducting online quiz, discussions and much more. Mr. Jeremy and Mrs. Santhi, faculty of Ngee Ann Polytechnic also suggested that there should be adequate resources like strong Wireless internet services and motivation is required to use these portals. They also suggested that Mobile phones can be used as one of the important learning tool.