World Diabetes Day - 2015
Medical Surgical Nursing department of Manipal College of Nursing Manipal, in collaboration with Kasturba Hospital observed World Diabetes Day on 14th November 2015. As a part of this program poster display on the theme "Act today to change tomorrow" was organized at Smt. Sharada Madhav Pai Medicine OPD of Kasturba Hospital.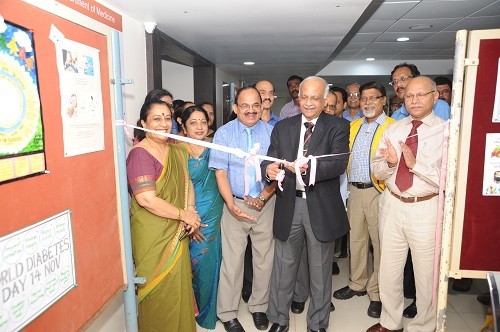 Dr H Vinod Bhat, Vice Chancellor, Manipal Academy of Higher Education, inaugurated the program. Posters focused on creating awareness on various aspects of diabetes prevention, management and compliance. Students and faculty from different institutions of Manipal Academy of Higher Education took part in the poster competitions. A total of 48 posters were displayed and Best posters were awarded to Dr. Vijetha Shenoy, Assistant Professor, Ms. Renuka Suvarna, Program coordinator, Department of Biochemistry and Ms. Sayona Alex, Ms. Steffie Mathew, students of BSc Nursing, Manipal College of Nursing Manipal. Patients and relatives were the main eye witnesses of the event.