Childhood Cancer Day - 2015
The International Childhood Cancer day was observed by the faculty and students of Department of Child Health Nursing, Manipal College of Nursing Manipal.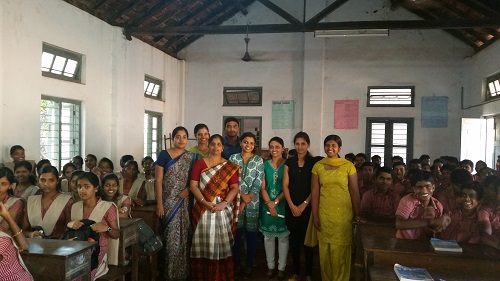 1. Awareness program
As a part of International Childhood Cancer day, 2nd year M.Sc, Child Health Nursing students conducted an Outreach Programme regarding Cancer awareness on 27th November, 2014 at Government Pre-University College, Udupi. Two sessions based on the sub-themes of the World Cancer Day were organized. First session was taken by Ms. Veena on 'Quality of life' and the second session was taken by Ms. Akshatha on 'Healthy life choices' and 'Early detection'. Following the sessions, quiz competition on cancer was conducted to the students.
2. Poster competition
Poster competition on the World Cancer day theme "Cancer - Not Beyond Us" was held on 10th February, 2015. The staff and students within and outside the Manipal Academy of Higher Education participated in the competition. Seventeen posters were judged and two best posters were awarded. First prize was won by Dr. Seebu Dhingra, 2nd year PG student MCODS, Mangalore and second prize by Mrs. Sheela Shetty, Asst. Professor, Dept. of Child Health Nursing, MCON, Manipal.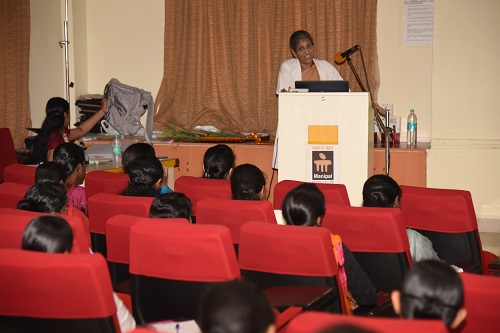 3. Seminar
A seminar was organized on 11th February, 2015 at Shirdi Sai Baba Hospital, KH Manipal from 9.00 am to 12.30 pm. The theme of the seminar was "Better Access to Care" based on the theme of International Childhood Cancer Day (ICCD), 2015. The seminar started with the session on 'Challenges faced during chemotherapy' by Dr. Nalini Bhaskaranand, Professor, Department of Paediatrics, Kasturba Medical College Manipal. Dr.Nalini highlighted the chemotherapy regimens and the challenges faced during the management of the patient.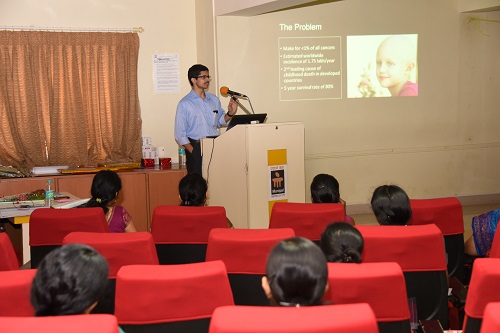 It was followed by a session on 'Treatment modalities for children with cancer' by Dr.Krishna Sharan, Associate Professor, Department of Radiology
and Oncology, Kasturba Hospital, Manipal. He emphasized on common childhood malignancies and their treatment modalities. The theme of ICCD
was presented by Ms. Nisha and Ms. Veena, 2nd year MSc Nursing students.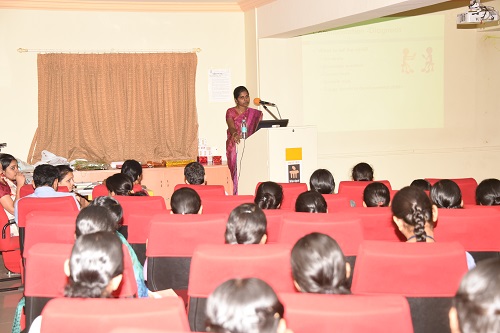 An informative session on 'nurses roles and responsibilities in care of children with cancer' by Mrs. Anjalin D'souza, Asst Professor, Dept. of Child Health Nursing, MCON, Manipal. She discussed the important care aspects for children diagnosed with cancer, mainly focussing on the nursing care precautions to be taken during administration of chemotherapeutic agents. All the sessions of the seminar focussed on the treatment modalities and highlighting the role of health care providers in meeting the challenges faced in care of paediatric cancer patients. A total of 89 participants which included students and faculty from Udupi and Manipal were registered for the seminar.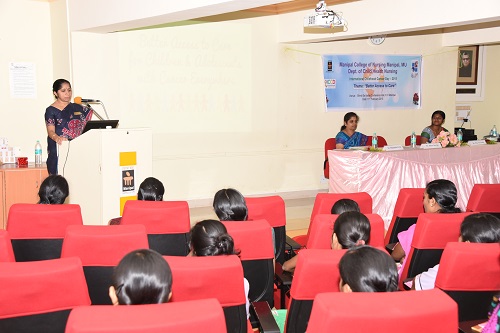 The seminar came to an end with valedictory function wherein, Ms. Riny Ann John, 2nd year MSc Nursing student, presented the report of the activities of ICCD. Dr. Anice George, Dean, MCON Manipal in her message emphasized on the importance of giving attention to children with cancer, their families and nurse herself. Dr. Mamatha S Pai, HOD and Ms. Nisha P V, Lecturer, Department of Child Health Nursing coordinated the activities of International Childhood Cancer Day, 2015.