Report of Work Integrated Learning Programme on First Aid/CPR & Dietary and Therapeutic Botanical Product Development
Manipal College of Nursing Manipal, MAHE organized Work integrated learning program in collaboration with Welcome Group Graduate School of Hotel administration (WGSHA) for MSc students of Dietetics and Applied Nutrition (DAN) on 9th November from 1.30 pm to 4.30 pm in GFATM class room, 6th floor MCON.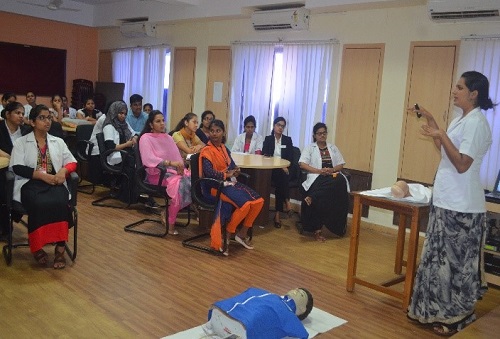 The goal of this workshop is to facilitate interdisciplinary interaction and learning of students. Twenty four Postgraduate students from WGSHA and faculty coordinator Prof. Valsaraj participated in the program. During the interactive session the II year MSc nursing students actively participated. Ms. Caroline, II year MSc Nursing student introduced about importance of CPR and choking, followed by Ms. Hema Shankar who briefed about first aid, Bandaging techniques, prevention of complications in immobilization.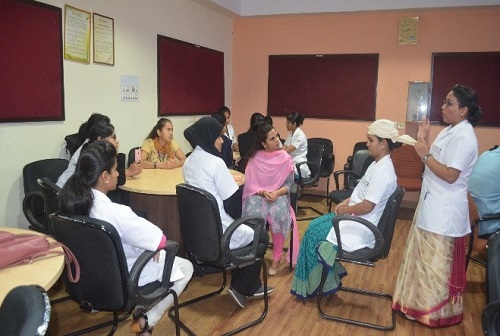 The students had hands on practice on adult and child CPR, first aid measure for choking, splints and different bandaging techniques. All 14 MSc nursing students took part in giving hands on demonstration. All participants were awarded with participation certificate by Dr. Anice George, Dean MCON. She highlighted the importance of knowing about first aid and CPR to save Gods precious gift that is 'human life'.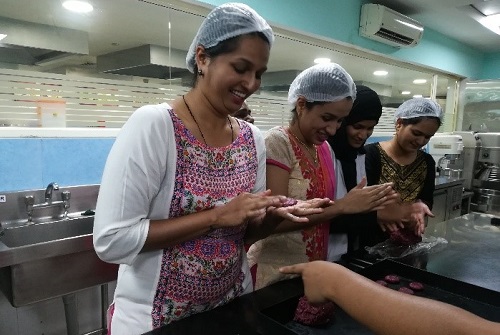 In return II year MSc Nursing students participated in a Workshop on Dietary and Therapeutic Botanical product development organized by students of MSc DAN, DAHS on 10th November 2018. The purpose of the workshop was to enlighten the importance of locally available botanical stuffs in treatment and prevention of diseases. The session started with a brief introduction about the theme by Prof. Valsaraj followed by introduction by Chef Thiru, Head of the Institution, WGSHA. Later session were taken by M.Sc. DAN students on the recipes and significance of it in Health Promotion.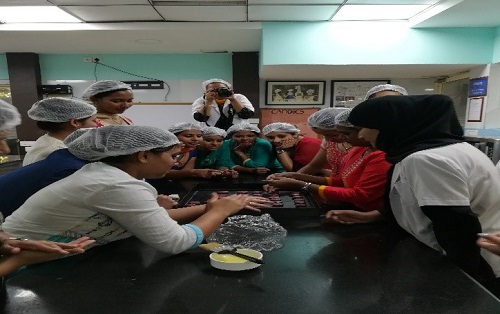 After the theory session, practical demonstration was given on preparation of food stuffs. Students were taught about four different varieties of food preparations which consists of Nutri Shots, Tisane, Multigrain cookies and beetroot Amaranths Kebab. All the food items were of great nutritive value, which can be used in various disease conditions. Students expressed that this workshop was a great success. Looking forward for more such work integrated learning programs through student exchange. The students of both the disciplines were very much appreciative of the collaborative exchange interactive learning sessions. The entire activity was coordinated by Mr. Jomon and Mrs. Janet Alva, faculty from Academic reputation team Manipal College of Nursing, MAHE.